Posted on Apr 10, 2011 by Trevor in Religion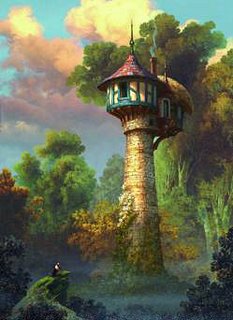 I don't make a habit out of drawing parallels between my life and the life of a Disney princess, but I just finished watching Disney's Tangled and found some intriguing similarities that might be useful for explaining my faith journey.
Tangled, which is an update of the German fairy tale Rapunzel, follows a young girl who has been locked away in a tower in a remote part of the kingdom. Her guardian, Mother Gothel, constantly tells her how dangerous the outside world is and that she needs to stay inside the tower for protection. All that Rapunzel knows about the world outside is from a few books lying around and what she can see from her window. Whenever she expresses a desire to go outside and explore, Mother Gothel responds by feeling betrayed and dishonored that the girl would not recognize that she had done so much for her and was only trying to protect her. "Rapunzel, why can't you just be happy with all that you have and the protection that I've given you?". Mother knows best, she often repeats.
Eventually Rapunzel tires of the solitude and confinement, yearning to seek the adventure outside. The simple, trite responses that Mother Gothel gives to her deep, probing questions seem insufficient and she feels like she's missing out on a lot that the world has to offer. There very well might be dangers about, but she needs to set her own course in life, making her own decisions and learning from them.
Although viewed as rebellion, Rapunzel makes the decision to take a leap of faith and leave. Finally outside exploring the enormous world outside, she discovers that there is indeed danger lurking about, but that there is also indescribable happiness, adventure, and opportunity. Once she leaves the tower, no amount of setbacks are enough to ever cause her to want to go back to the tower.
By this point, some may be wondering why a post about Rapunzel is filed under the Religion category.  Others might see the foreshadowing of a common theme in LDS counsel: holding to safety the iron rod, a.k.a. strait is the gate, and narrow is the way, a.k.a. strict obedience to the prescribed path, and so forth. Since having a blog is about all about being narcissistic ;), I wanted to write about why I've left Rapunzel's tower. As a disclaimer (much of what I say should have an implied disclaimer), I'm not saying that I think my view is the best one, the only one, or that it will work best for many or all people, or that people can't be happy or spiritually fulfilled where they are. This is simply my explanation of how things have gone for me and what resonates with me. (I really like the word "resonate" :D) I find it really challenging to write on this kind of topic without appearing elitist, condescending, more "enlightened" than others, etc. So I really hope nobody feels like I'm talking down on what works for them. The main purpose of this blog for me is mainly to explore my thoughts. And just to be explicitly clear up front, I'm not talking about renouncing my religion, although I do readily admit that I view things quite a bit differently than the traditional Mormon does.
While discussing religious principles, theology, and religious history with people, an idea I often encounter is that people find safety and comfort in sticking with the plan and not intentionally deviating from it. Depending on the context, the plan might be
continuing to be an active, practicing Mormon
never second-guessing a testimony
refraining from asking questions or reading challenging material (e.g. church history, biblical textual criticism) that lead to uncertainty or gray areas
committing to following with exactitude every teaching of the Church, regardless of personal conflicts
But to me (again, re-read my disclaimer), all of this often amounts to staying locked up in Rapunzel's tower. I hit a point in my life where I felt my faith stagnating and losing meaning. Joseph Smith was a cardboard cutout of a legendary superhero that didn't resemble any real human being. The refrain of "follow the prophet" increasingly caused me a headache and struck me as an attack on free agency, personal accountability, and the development of independent thought that is absolutely essential in the path to Exaltation. "Milk before meat", they say, but where's the meat? I found many questions with no substantive answers, not to mention that this steady milk-only diet was causing me to starve. The advantage of staying in the tower was "certainty" and safety, but it was becoming increasingly hard to make this work for me. The more I pondered, the more I felt that any beliefs worth having needed to hold up to any questioning, historical facts, and logic I might run across. I wanted to question openly, and explore doubt as an essential part of belief. "The truth will set you free", it is written. So I left the tower, completely oblivious as to what I'd find, but hungering for something deeper and bigger.
Now that I'm out of the tower, I could never return and make it my home. I can testify that there are certainly dangers out here, but there are also treasures I never could've imagined before. I've turned my back on the safety of having others spell out for me which path I should take, but it's extremely liberating to feel like I'm ultimately the one in charge of deciding what is best for me and what God would have me do. Now this doesn't mean that I have rejected all the current counsel, teachings, and doctrines of the Church (i.e., I do retain certain a certain fondness for when I visit the tower on occasion), but it does mean that I carefully scrutinize them rather than accepting them automatically.
When I realized that this sense of "unknowing" could become detrimental to my commitment level, I decided that commitment was still important, so I decided to re-commit to those principles and ideals I felt were most important. Being outside the tower has certainly shuffled the priority of those principles, but I feel like I can sort through them much more clearly than I was able to before, and I feel more passionate about committing to them. I feel more authentic. When I choose to believe in something, I feel I'm doing with my eyes wide open (or at least to the extent possible).
Just like Rapunzel, I sometimes look back at my days in the tower and miss the simplicity and comfy feeling I remember having. Outside the tower, there are bumps and bruises I wouldn't have to deal with inside. I've given up the feeling of certainty I used to have (although I often wonder if it was just an illusion in the first place). Oftentimes decisions that were once so easy to make are much more complicated (but other decisions are far easier). I can feel my spirituality growing and maturing once more, whereas before it was lapsing into a coma.
Elder Hugh B. Brown, who served in the First Presidency under the beloved David O. McKay, made a progressive statement I love:
We should continue to become acquainted with human experience through history and philosophy, science and poetry, art and religion… One of the most important things in the world is freedom of the mind; from this all other freedoms spring. Such freedom is necessarily dangerous, for one cannot think right without running the risk of thinking wrong, but generally more thinking is the antidote for the evils that spring from wrong thinking. More thinking is required, and we should all exercise our God-given right to think and be unafraid to express our opinions, with proper respect for those to whom we talk and proper acknowledgment of our own shortcomings.

– Elder Hugh B. Brown,

An Abundant Life
I don't really know why my mind works this way or what really triggered this change in my thinking. I have sometimes fallen into the trap of ascribing it to my intelligence or knowledge, but I ultimately must concede that this is not the case. A friend once shared with me the statement, "Questioning and doubting are a factor of personality, not intelligence." My desire to explore wasn't due to intelligence; it was due to something inside me that I could not quiet.
Spiritual leaders often counsel that pride can have a detrimental effect on faith, and I can affirm as well as anyone that this is true. There may be an inherently prideful or rebellious aspect in being so insistent on choosing one's own path, and maybe I'm just one of those people that has to learn things the hard way, but I know that God knows my heart and knows that I'm sincere and earnest in my seeking, and that's really all that I need to know in order to move forward.