Posted on May 13, 2011 by Trevor in Politics, Religion
Full disclaimer: I am a Huntsman fan. I thought he was a good governor, and I'd seriously consider supporting him again were he to run for president.
So I'm seeing potential 2012 presidential candidate Jon Huntsman take a lot of heat lately about his particular religious views. You might at first think I meant to say Mitt Romney, and that I meant 2008. Nope. In fact, that's the ironic thing about it: many of the same people I see now assailing Huntsman for his religion were the same ones crying foul when Romney took heat in 2008 for his religion.
"Wait", you're interrupting. "Aren't they both Mormons?" Yes, they are.  Romney, however, is what you might call a more "traditional" Mormon, whereas Huntsman seems to be, for lack of a better word, "non-traditional". Having many good friends that are non-traditional Mormons, I understand quite well where they come from. (As a side note, these friends often lament being the target of severe, judgmental criticism from their fellow Mormons, even to the extent that it makes attending church and participating more fully a difficult task.) I don't know Huntsman well enough to ascertain how non-traditional he is, and he hasn't made many enough public statements on the matter either (quite frankly I think it's absolutely irrelevant to his qualifications as a politician). Regardless, these attacks on Huntsman's religious views are particularly uninformed, presumptive, and unfair.
He lacks conviction!
Some seem to believe that his lack of piety means he simply lacks conviction. Yeah, just like Reform Jews lack conviction, right? My friends who are unorthodox—are they people who lack conviction? Does a person who interprets the biblical account of Noah's Flood metaphorically have less conviction than a person who interprets it literally? Huntsman has claimed that he's "a very spiritual person and proud of [his] Mormon roots". Why does it matter if his convictions are the same as yours?
He's a sell-out!
I've also seen lots of people claim he's trying to buy votes by distancing himself from Mormonism, perhaps seeing the ball-and-chain it was for Romney. This storyline would be much more plausible were it not well known for years that he is non-traditional. As governor of Utah he was known for supporting civil unions for homosexual couples, loosening up anti-liquor laws, and rearing his two adopted children in the religions of their birth instead of in Mormonism. His particular religious preference didn't really make headlines until he started appearing on the national news radar. Last year Fortune magazine reported him saying, "I can't say I am overly religious. I get satisfaction from many different types of religions and philosophies."
If Huntsman were truly a sell-out, he'd be trying to pass himself off as either a completely devout, pious Mormon, or as some sort of generic Christian believer. Part of the 80% approval rating that accompanied Huntsman at the close of his governorship in Utah was that most observers felt he didn't pander (this is actually one of my favorite things about him).
He's being dishonest!
Another cheap shot. "Why won't he just state what he believes?" That sounds a lot like what Romney went through in 2008. If it was unfair and irrelevant back then, then it still is today. I'll restate it: why does his religion have anything to do with his qualifications to be a president?
If I were an inactive Mormon, or a non-believing Mormon, or a non-traditional Mormon, and yet I still felt a connection with Mormonism's teachings and community, I think I'd probably hedge a little myself on the question "Are you still a Mormon?" What kind of simple answer can one give in that scenario? I think Huntsman's answer was in reality quite honest. Technically, he's a member of record, but in practice, he's probably not sitting in the pews every Sunday and attending the  temple. Is there really an objective yes or no answer to that question?
Religion either doesn't matter, or it doesn't matter
Do we want to be the nation that preaches freedom of religion but excludes people from our highest office because they're atheist, Mormon, non-traditional Mormon, or Jewish? I hope not. With all the ridiculous circus side shows going on that constantly distract us from the real issues in politics, why do we think we need another one? Huntsman's opinion on who'd win in a fight between Batman and Spiderman is just as relevant to his qualifications as what kind of Mormonism he practices.
Other Sources
Joanna Brooks – Why Huntman's Mormonism is "Tough to Define" – Religious Dispatches, 5/13/2011
KSL News front page, 5/12/2011 (can someone tell me why this is such important news that it merits the top spot on the web site?):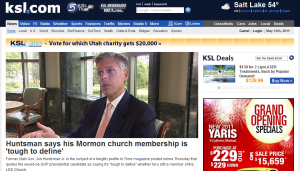 "I am Mormon," Huntsman tells national media outlets – KSL News, 5/20/2011