Posted on Oct 13, 2012 by Trevor in Music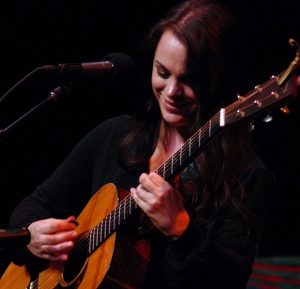 This fall my wife and I hit Salt Lake City for a concert at The State Room. The main act was an artist we've both followed since her excellent debut album in 2004, One Moment More.
Mindy Smith, ladies and gentleman. Most likely her name isn't familiar to you, and that's just a shame. She has a nimble, clear voice that propels her poignant Americana-styled music very capably. I wish everyone could hear her stuff.
But then again, maybe I don't! Because then we wouldn't have had the awesome experience at The State Room that we did. 🙂
Having never been there, we didn't know anything about the venue, so we went a little early. Walking in that evening, we were surprised to see a dozen small tables right up next to the state, and about 20 rows of pews on stairs behind. I couldn't believe it. Not only were we going to be able to sit down (which was great for my 8-months pregnant wife), we had better seats than any concert I've ever been to. Right in the center. Just perfect.
I realized at that point that Mindy doesn't have the largest following. There were maybe sixty to ninety people by the time her opener started. It sure made for an intimate, low key setting unrivaled by any of those big concerts people often attend.
Mindy's previous show had been in Boise, and so her band had driven through a lot of smoke in the air from a rash of forest fires. She went up to the mic and greeted us, and I was startled to hear a low, raspy voice. No way could she really sound like that while singing like she does, I thought. Pretty interesting. I like what one reviewer wrote of one of her concerts:
No one can deny Smith the effort gone into actualizing her material. No one can deny Smith her talent. The disparity between her grumbling speaking voice and the beauty in the way she sang was incredible. There were moments her voice did that thing my brother and I both seek, that "I'm letting you in on something dark and real" thing, and my skin stung with the sting of chill bumps. This, in spite of Smith's insistence to call attention to her imperfections.
We loved the show, and it's been one of my most memorable concerts. And we still were in for more surprises: afterwards, she hung out in the lobby talking with the fans! We got to chat for a few minutes and wish her good luck on her newest album, which she was distributing independently. Oh, and she even signed an album cover for us.
Anyway, peruse some of her songs. She's well worth the look.